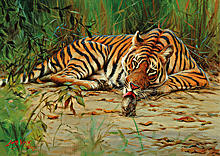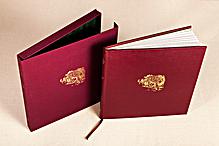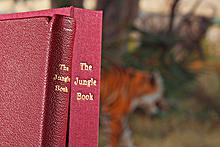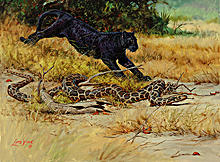 The Jungle Book - Limited Edition Deluxe Book
Limited Edition Book Celebrating the 150th anniversary of Rudyard Kipling
200 copies only - illustrated by Lute Vink
The Jungle Book is illustrated by wildlife artist and finalist of the BBC Wildlife Artist of the Year, Lute Vink.
Each book is numbered and signed by the artist -
Lithographically printed on prestige paper to ensure crisp text and rich reproduction of the original oil paintings -
Gilt edged pages -
Hand bound with burgundy leather and features a gold embossed design of a prowling Shere Khan -
Presentation box - 136 pages - 16 colour illustrations
To order these books, please call 0777 1635 777 or simply use the PayPal button below.
(Remember to select your correct delivery option)
About the Book
The Jungle Book tells Rudyard Kipling's much-loved story of Mowgli, a young boy raised in the Indian jungle by a family of wolves. He is taught the laws and languages of the jungle by his mentors: Baloo, a wise old bear, and Bagheera, the panther.
However, peace is soon shattered in the jungle; Shere Khan, the man-eating tiger, has returned and he is not pleased to learn of the presence of Mowgli, He determines to prove his dominance….
And so begins a battle for survival between a young human and a tiger.
You can buy your own copy of "The Jungle Book" right now, via PayPal. Just select the right option for you from the drop-down list below and click "Buy Now". You will be taken straight to the secure payment facilities at PayPal.